THE GIVIN

G MEADOW
Children'sBook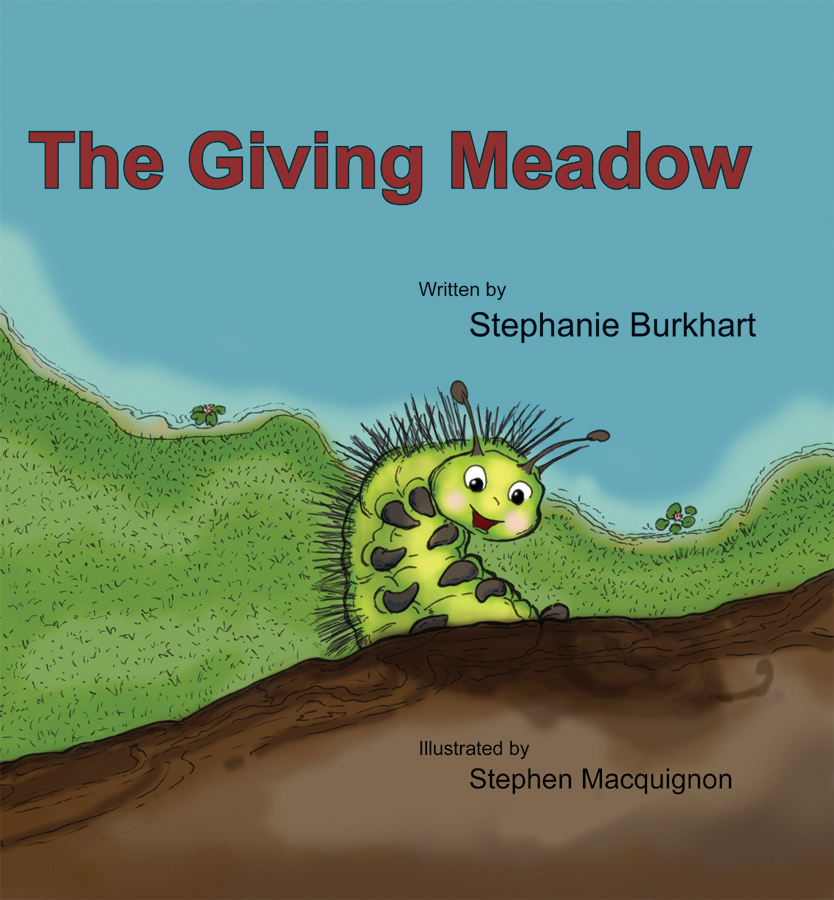 The Giving Meadow is about a caterpillar who travels through a meadow making friends
before turning into a butterfly. It's geared
for 4-7 year olds.
Reviews:
5 Star, Tami Dee, Author of the Mists of Time Series:
"The Giving Meadow is a charming story about friendship, generosity, kindness, and support."
5 Stars, Midwest Book Review:
"Children from 4-8, and even some a little younger and a little older, will want to read this book over and over."
5 Stars, Beth Benice Renke, Author of "In My Bath"
"The Giving Meadow is perfect for the innocent years of early childhood."
FIRST FLAG OF NEW HAMPSHIRE

Middle School/Young Adult
Released: FEB 2012
BLURB:
Can Alyssa and Miguel find the first flag of
New Hampshire before the end of the semester?
REVIEWS:
"I enjoyed Ms. Burkhart's First Flag of New Hampshire very much. The story was fast paced, fresh, and I learned a lot about the first flag of New Hampshire." - Tami Dee
"Stephanie Burkhart makes history fun in this engaging middle school/young adult story." - Cheryl Malandrinos
BRADY'S LOST BLANKET:
Children's Book
BLURB:

Brady is a sensitive young boy who takes his blanket wherever he goes. After traveling with his parents to visit his new cousin, Brady accidentally leaves his blank behind. Can Brady learn to get by without his blankie?
REVIEWS:
"I highly recommend his adorable picture book about a child's major step in growing up. The watercolor pictures on each page are skillfully done by Bridget McKenna. They bring Brady and Blankey to life, adding to the story." - kidstalz, Amazon Reader
"Brady's story will help them learn to believe in themselves above the comfort object. I recommend this lovely story to young children and parents everywhere." - Shawn Simon, Amazon Reader
JOSEPH'S CRADLE
Children's Book
BLURB:
Joseph and his wife, Mary, expect a baby. With all that is happening, including the government requiring a census, Joseph feels a little overwhelmed and a bit left out of the preparations for the baby. Is there something he can do?
REVIEWS:
"Burkhart offers a tender tale about gifts for the Christ child, and Hughes gives delightful illustrations. I highly recommend this book for the children on your Christmas list." -- Janet K. Brown, Amazon Reader
"This beautifully illustrated picture book with its gentle, sweet story will enliven discussion with the young people in your life about each person's special place in the story we thought we knew. " - Suzanne Cordotas, Amazon Reader
BUY LINKS:
4RV PUBLISHING:
The Giving Meadow
First Flag of New Hampshire
Brady's Lost Blanket
Joseph's Cradle
Buy Link on Publisher's Page: http://www.4rvpublishing.com/stephanie-burkhart.html
Buy Link on Amazon.com: http://www.amazon.com/Giving-Meadow-Stephanie-Burkhart/dp/0982588690/ref=sr_1_2?ie=UTF8&s=books&qid=1297791723&sr=8-2
First Flag of New Hampshire
Buy Link on Amazon: http://a.co/ggtfs8A
Brady's Lost Blanket
Buy Link on Amazon: https://www.amazon.com/Bradys-Lost-Blanket-Stephanie-Burkhart/dp/1940310040/ref=sr_1_1?ie=UTF8&qid=1533081962&sr=8-1&keywords=Stephanie+burkhart
Joseph's Cradle
Buy Link on Amazon: https://www.amazon.com/Josephs-Cradle-Stephanie-Burkhart/dp/1940310342/ref=sr_1_4?ie=UTF8&qid=1533081962&sr=8-4&keywords=Stephanie+burkhart

LULU:
ACROSS THE FICKLE WINDS OF HISTORY:
BUY LINK: http://www.lulu.com/shop/sg-cardin/across-the-fickle-winds-of-history/paperback/product-1572128.html
PRAIRE ROSE PUBLISHING:

Journey of the Heart
Mr. Christmas Elf
Night of Magic
Buy link on Publisher's Website:
http://prairierosepublications.com/authors_2/stephanie-burkhart/

AMAZON EBOOKS:

Young Witchcraft
Christmas in Bayeux
https://www.amazon.com/Stephanie-Burkhart/e/B003R00R5I/ref=aufs_dp_fta_dsk